Looking for the best sourdough bread recipes to make at home? No problem, we got you! Today, we're going to explore more about sourdough bread, how to make it, as well as the best recipes you can do at home!
First, you might want to ask, what really is sourdough bread?
Based on Wikipedia, sourdough bread is made by the fermentation of dough using naturally occurring lactobacilli and yeast. The lactic acid produced by the lactobacilli gives it a more sour taste and improved keeping qualities.
What about the health benefits?
According to some studies, sourdough bread acts as a prebiotic, which means that the fiber in the bread helps feed the "good" bacteria in your intestines. These bacteria are important for maintaining a stable, healthy digestive system. Sourdough is also lower in gluten than other forms of bread. – Webmd
INGREDIENTS USED IN SOURDOUGH BREAD
To make sourdough bread, you need to have a 'starter' – a fermented flour and water mixture that contains wild yeast and good bacteria – for it to rise. As well as all-purpose flour, water, and salt.
HOW TO MAKE SOURDOUGH BREAD?
Here's a video and blog tutorial on how to make sourdough bread at home! These easy to follow instructions will truly help you become an expert in making sourdough bread in no time.
SOURDOUGH BREAD VIDEO TUTORIAL
How To Make Sourdough Bread Masterclass
Get back to basics with this amazing sourdough recipe. Patrick Ryan owner of Firehouse Bakery demonstrates how to make your starter for your sourdough. After that it is a matter of patience.
SOURDOUGH BREAD BLOG TUTORIAL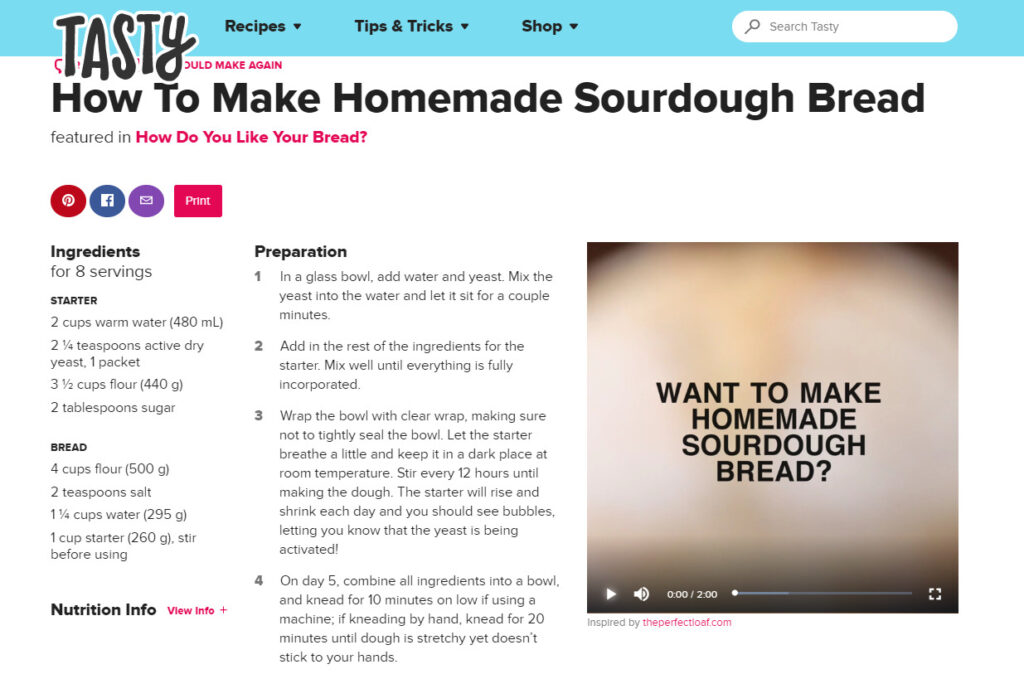 Tasty will give you clear instructions on how you can make a sourdough bread at the comfort of your home. Now with a quick video tutorial on the side so if you find the instructions a bit tricky, you may check the short video to see if you're doing it right!
4 BEST SOURDOUGH BREAD RECIPES
#1. The Ultimate Homemade Sourdough Bread
In this video, Joshua Weissman will show you how to make the perfect homemade recipe you could ever make at home!
#2. The World's Simplest Sourdough Bread Recipe!
Want to make a sourdough yet find it very difficult? Here's the oversimplified version of making a delicious and super easy sourdough bread.
#3. 5 WAYS TO GET A BETTER OVEN SPRING | SOURDOUGH BREAD TIPS
When making a sourdough bread at home, these tips could be very helpful! Watch this now and take note of the points and the video to make sure you make a wonderful sourdough bread!
#4. 3 minutes: How to make a basic sourdough loaf
This video will teach you all the things you need to know when making a basic sourdough loaf in just 3 minutes! Perfect for those who don't like to watch super long videos.
OTHER BREAD (SOURDOUGH) RECIPES
Hands Down The Best Avocado Toast Recipe Ever
Perfect for breakfast, this healthy avocado toast with sourdough bread is over-the-top delicious! Aside from that, it is super easy to make and affordable.
OTHER BREAD (NON-SOURDOUGH) RECIPES
Amazing Naan Bread Recipe
Naan is a traditional oven-baked flatbread in India. In English, Naan means "flat leavened bread". Take note that this recipe doesn't need active yeast. Yogurt also contains active culture in it.
Delicious Vegetable Sandwich Recipe
If you are looking for a delicious and highly nutritious sandwich you can make at home during breakfast— for you, your kids, or loved ones— this recipe is perfect for you!
Amazing Garlic Butter Loaf Bread Recipe
Garlic butter loaf bread is popular in countries all across the world for its exceptional taste that is perfect for breakfast and snacks. It is undeniably easy to make and very pocket-friendly.
AMAZINGLY Delicious Bread Pudding Recipe
Bread pudding is a delicious bread-based dessert that is popular in many countries' cuisines. It is made with stale or leftover bread and milk or cream, generally containing eggs, a form of fat such as oil, butter, or suet. It also has a variety of ingredients depending on whether you want it sweet or savory!
Amazing Sugar Donut Recipe
A doughnut or donut is a type of leavened fried dough. You can add toppings, fillings, and different ingredients according to your taste.
Amazing Pan De Coco Recipe
Pan De Coco is a delicious soft bread roll that has grated sweetened coconut meat filling. The combination of ingredients when making this bread is over-the-top delicious! Perfect for snacks for this recipe will never let you down!
Amazingly Delicious Beignets Without Yeast Recipe
Popular in New Orleans, the beignet is a square-shaped doughnut that has powdered sugar on top— a cup of coffee would make this a perfect pair! Beignet is a fritter or deep-fried pastry, that can be made with a variety of dough including yeast dough.